Connecticut Community Colleges Open Food Pantries for Students and Faculty
A growing number of community colleges in Connecticut are opening food pantries to serve not only their students, but also part-time faculty and staff.
Middlesex Community College has just launched a pantry in an old retrofitted bus. Tunxis Community College which also opened a pantry - estimates that 64 percent of its students (some 2,900 students) face food insecurity.
Amy Fest is president of the faculty governance association at Tunxis. Judith Felton runs the human services program at Middlesex. They recently spoke with WNPR.
Judith Felton: We know that over half of community college students report being food insecure, and we think of food insecurity – the definition of that being the lack of adequate and nutritional food. Students are struggling between tuition costs – and tuition, actually is the least of their worries, as we talk with them. It's more about textbooks, transportation, childcare – especially at the community college level – and food.
Last year, just anecdotally, we had a legislative breakfast at Middlesex Community College and there was a student panel of six. Five out of those six students mentioned food as a major issue for them. And two of those students said they stop at the soup kitchen every morning on their way to school.
Amy Fest: We also hear a lot through out Veterans OASIS (Operation Academic Support for Incoming Service Members), of a lot of our veterans who are actually finding themselves living in that same situation. They're on the edge. They're unfortunately not able to qualify for some of the services that they need. And they're often making a choice between a bus pass to get to college or to put breakfast on the table for themselves, and often for their families, as well.
We also see a huge increase in the number of students who are coming through our counseling center with the need for immediate services, an immediate need for some food because they haven't eaten. And if you haven't eaten, you can't do well in class.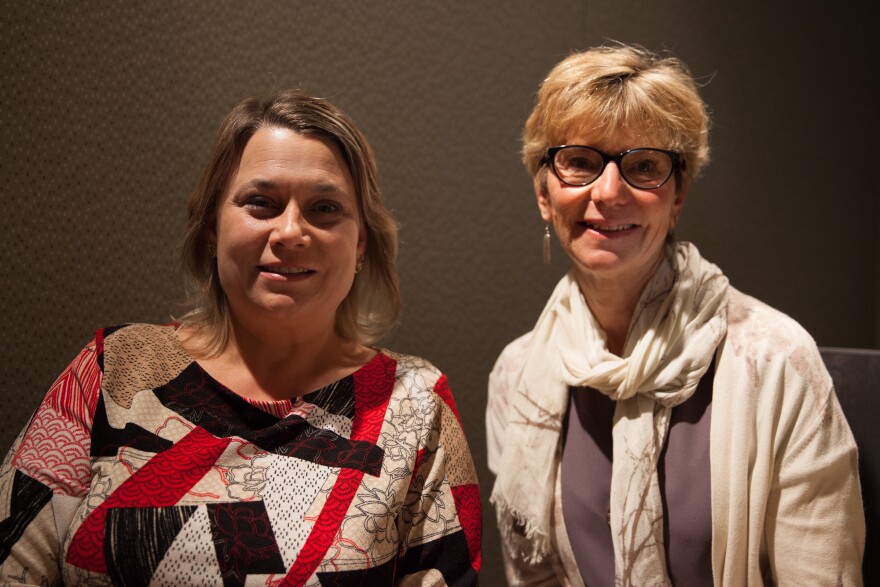 WNPR's Diane Orson: So Judith, you've opened a food pantry at Middlesex Community College. How does that work?
Felton: Our college is very small. We're very tight for space, so it was our president who came up with this idea of a bus. We got some grants and we bought a bus that really had been a party bus. It really looked like something Elvis had lived in. And we partnered with our local technical high school, and those students ripped out the inside and built shelves.
Students come in twice a month or they can come in five times a month. They get an allotment of twenty items per month. But we also have a grab-and-go section, so students or staff - they just have to show ID - can come in everyday and just grab a granola bar if they want. That's how we're working now. It's staffed by students.
And Amy, how's it working at Tunxis?
Fest: I had a student in my class about two years ago who had come to me because he was living in his car. And he did not have food. And I went to our president and got some emergency funds to get him some vouchers to the cafeteria to try to hold him over till he could change his situation.
Knowing that there was a great need on campus, we found an empty office that is not very big. It is extremely small to start us, and we went around the college and found some old shelving and put it in there and did a whole bunch of food drives. And through donations of our employees and our students, we have our shelves completely stocked.
We have students who are working our open hours and really have already seen with a soft opening, dozens of students who have come to us that have heard about it.
Do you think there's any concern about stigma?
Felton: Well that's a really good question. And because of that, it was the decision to have no eligibility requirements, that this is available at our college, to anybody with a Middlesex Community College ID. So it can be students or staff. I believe that we also have staff that might also be in need of food or a grab-and-go item.
Our bus is actually really far away, so it would be unusual for shoppers to necessarily be seen going in and out. Student volunteers are trained. There's protocol to follow. Volunteers are told, "You know, you may see this student in Stop and Shop down the street. And if they approach you, that's fine. But do not go up and say 'I saw you at the food pantry.'
Fest: Or you may be sitting in class next to them.
Felton: More likely. Exactly.
Fest: And we're running in the same way at Tunxis, where our food pantry is located is a very off-the-beat location.
Felton: As far as we're concerned, it's just another service of the college. It's toward student success. We know that GPA is lowered when people are hungry. So this is just another way of encouraging student success and retention.