Hear the ocean speak on its own behalf in 'Ocean Filibuster' at Wesleyan University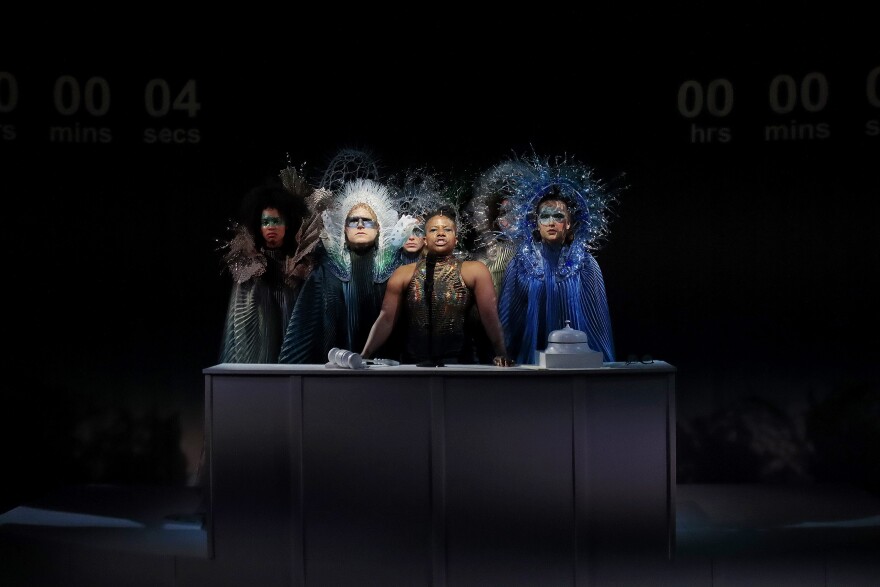 It's a scenario that plays out seemingly every week in the halls of Congress: Lawmakers take positions on policy that may either help them score political points, or benefit them somehow financially.
In "Ocean Filibuster," a musical by the theater troupe PearlDamour, nothing has changed much in the future. A scheming politician proposes a bill before the World Senate to shrink and monetize the world's oceans. At a public hearing on the measure, the ocean takes human form and starts a filibuster against the bill.
"After several discussions with people who study this for a living, it was explained to me that our relationship with the ocean is a codependent one," said Katie Pearl, a Wesleyan University assistant theater professor, and one of the founders of PearlDamour.
"We've been behaving very badly, and the ocean has just been taking it and taking it, and maintaining the temperature of our planet, so that we haven't had to even notice our bad behavior because nothing, seemingly, changes around us."
Back in 2016, Pearl and playwright Lisa D'Amour were wrapping up their theater piece "Lost in the Meadow" when they were commissioned by the American Repertory Theater and Harvard University's Center for the Environment to create a new work. After they decided on a work about the ocean, they spent months talking with oceanographers, and figuring out how to take those facts and spin them into theater magic.
One of the big challenges was finding a way for the audience to become invested in such an immense and unwieldy issue like global warming.
"We thought, 'How can I be in relationship to this scary problem, through a metaphor that makes it fun to contemplate?'" Pearl said. "To be in a relationship with this character, the ocean, and have enough distance to say, like 'Oh — what do I think about that? So, it's like two different doorways into one important and alluring question."
The work had its premiere in March 2022 in Cambridge, Massachusetts. The piece then traveled to the University of Houston and the University of Miami.
While the show travels with Obie Award-winning performer Jenn Kidwell as the ocean, the other roles, the "Ocean Ensemble" as they are called, are cast and performed by local actors. At Wesleyan, the "Ocean Ensemble" will be comprised of Wesleyan students.
If you go
"Ocean Filibuster" runs May 4-6 at Wesleyan University's Center for the Arts Theater in Middletown.