Hartford Democrats endorse Arunan Arulampalam for mayor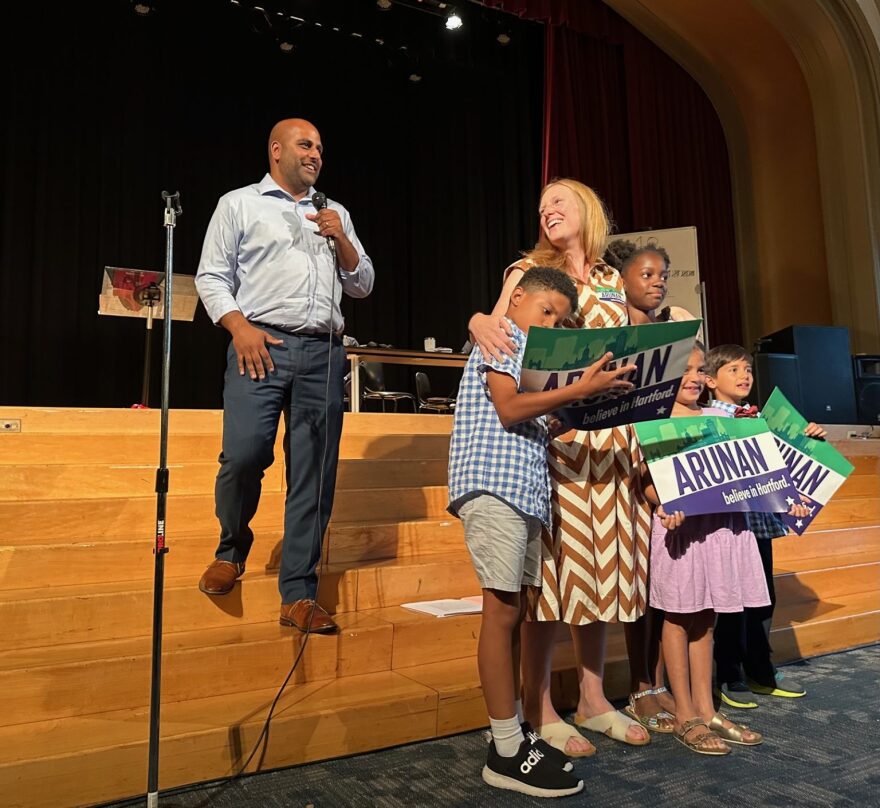 Arunan Arulampalam, the young chief executive of a Hartford nonprofit who never has held elective office, won an overwhelming first-ballot victory Monday for the capital city's Democratic mayoral endorsement over two rivals with political roots that reach back to the 1980s.
Arulampalam won 49 of the 77 votes, with support from across the city. Sen. John Fonfara finished second with 21 and Eric Coleman, a retired Superior Court judge and former state senator and representative attempting a comeback, was third with 10.
"If you look at that board, we did something incredible today," Arulampalam said, accepting the endorsement. "There is support in every part of this city, in every neighborhood."
Arulampalam, 37, the chief executive of the Hartford Land Bank and a former deputy commissioner of consumer protection during the administration of Gov. Ned Lamont, is trying to succeed Mayor Luke Bronin, who won his first term at age 38, unseating Mayor Pedro Segarra.
Fonfara, Coleman and a third challenger who was not nominated, Councilman Nick Lebron, all immediately vowed to petition to force a primary in September, which is tantamount to election in the heavily Democratic city. Bronin, now 44, is not seeking a third term.
"The politicians have now spoken," Coleman said, shrugging off his last-place finish. "I'm very eager to hear what the people say."
Coleman, 72, was elected to the state House of Representatives in 1982 and the state Senate in 1994. He resigned prior to the start of a new term in 2017 in anticipation of Gov. Dannel P. Malloy naming him a judge of the Superior Court. Coleman left the bench at the mandatory retirement age of 70.
Fonfara, 67, was elected to the House in 1986 and to the Senate in 1996. Both men noted they are not unfamiliar with waging primaries. Fonfara won his House seat by defeating an incumbent, and he faced a primary challenge for his Senate seat in 2010, the last time he needed to go door-knocking for voters.
"I've started door knocking, back on the bike," Fonfara said. "I'm enjoying the responses I'm getting."
Lebron, 44, is a first-term councilman.
The Democratic town chair, Marc DiBella, and the committee's lawyer, former Councilman John Kennelly, cast votes for Arulampalam, who is attempting to win without a racial, geographic or elective base in a city that is 45% Latino or Hispanic, 36% Black and 14% non-Hispanic white.
Arulampalam called his victory "a rejection of the old politics of fear and division that would seek to drive us backwards by dividing community against disempowered community."
Arulampalam is a naturalized U.S. citizen, born in Zimbabwe to Sri Lankan parents. He was a toddler when his parents emigrated. He is married to the Rev. Liza Arulampalam, the pastor of the historic Center Church. He ran for state treasurer in 2018, finishing second at the convention but declining to wage a primary.
Bronin, who was the general counsel to Malloy before seeking the mayoralty in 2015, gave a brief farewell speech before the first votes were cast in the auditorium of the M.D. Fox School.
"We've been through a lot over the last eight years," Bronin said. "We went from near bankruptcy to recovery, to a global pandemic to a new recovery. We had victories that we celebrated together, and we've had heartbreaks, and we mourned together. And we've gotten a lot done, and there's a whole lot that has not yet been done. And that work now continues."
He urged unity after the primary, saying Hartford cannot afford long-term divisions.
"And no matter what happens tonight, no matter who you're supporting, no matter what happens in September or November, there is a place for politics, and in Hartford we play politics hard," Bronin said. "But when the politics ends, it's time to pull together and move forward as one Hartford."
This story was originally published by the Connecticut Mirror.