Officials urge caution and calm as monkeypox cases grow in Connecticut
State Public Health Commissioner Dr. Manisha Juthani said Thursday there are now 28 reported cases of monkeypox in Connecticut.
The news came as Connecticut health officials, advocates and Gov. Ned Lamont met to dispel misinformation about how this rare disease is spread after an outbreak that recently prompted the World Health Organization to declare a global health emergency.
Across the U.S. more than 4,600 monkeypox cases have been reported. But Juthani said that, to date, no monkeypox deaths have been reported, and no health care workers have gotten monkeypox from an exposure.
"And there's been nobody on an airplane who's been exposed to somebody who had monkeypox who's been infected," Juthani said. "These are promising signs."
Monkeypox is spread through close, prolonged contact, including coming into contact with skin lesions or body fluids, officials said. It causes a rash that can look like large pimples or blisters. If it first appears in the genital area, it could be mistaken for something like a sexually transmitted disease. Usually, people with monkeypox fully recover.
Public health officials said shots are available for any person who may have been exposed through close personal contact in the past two weeks.
Juthani said that 800 vaccines will be available at 15 local sites starting Monday. She said priority will be given to men who have sex with men and have been exposed to someone with monkeypox.
Patrick Dunn, executive director of the New Haven Pride Center, said it's important that residents stay informed about monkeypox by contacting health officials.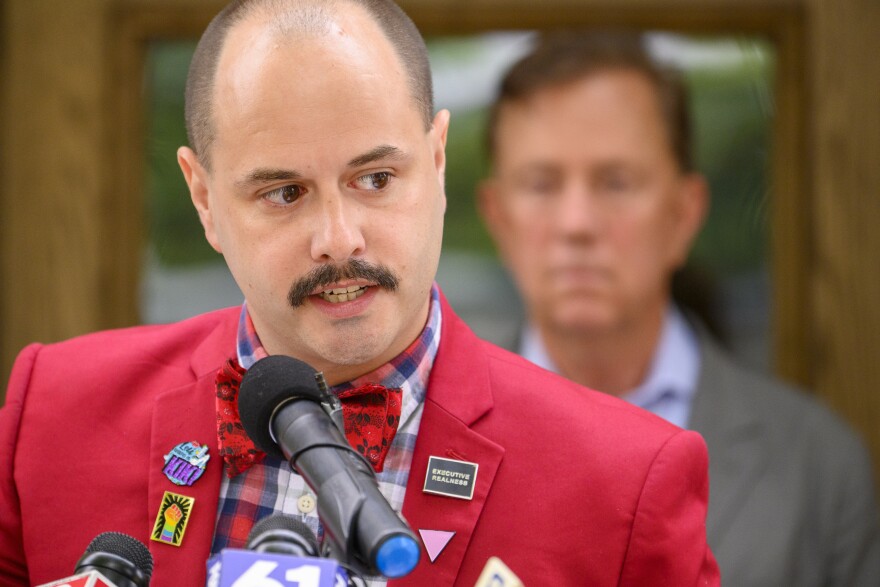 "If you are feeling concerned or feeling like you do not have the information you need, please reach out to our organizations, please reach out to [the Connecticut Department of Public Health]," said Dunn, who is also chair of the state's LGBTQ+ Health and Human Services Network. "When we come from a place of misinformation, diseases spread."
To protect yourself from the virus, officials recommend avoiding intimate physical contact if you think you've been exposed to the virus or have virus-related symptoms.
"If you already have monkeypox – if you already have lesions – you are not qualified to receive the vaccine because now you are a case," Juthani said. "The goal is to try to get as many people as possible before they actually break out with a rash."
Lamont joined the news conference to raise awareness about the availability of testing and vaccinations. He said a larger shipment of vaccines will be on the way in a few days.
Lamont said people who have an open lesion or rash can call 2-1-1 to schedule an appointment for testing.
Connecticut's first case was announced July 5.

Updated: July 28, 2022 at 1:04 PM EDT
This story has been updated.