Connecticut Gets Its First "Bankshot" Basketball Court for All Abilities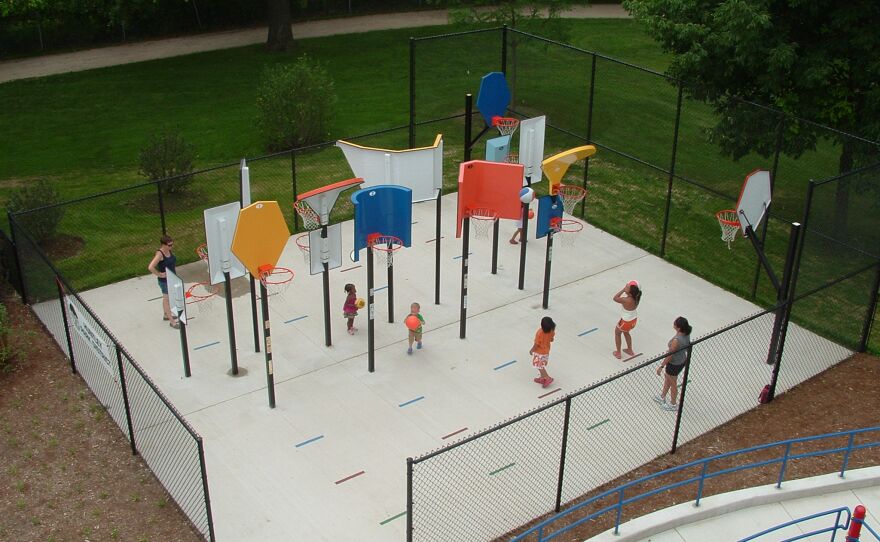 A Bankshot court in Huntley Park, IL.
Bankshot
Children shooting hoops in Huntley Park, IL
Bankshot
Children playing on a Bankshot court
Bankshot
A Bankshot court features differently-sized hoops side by side where players move between stations.
A group of West Hartford residents is working to renovate Jonathan's Dream, a public playground for children of all abilities. Recent funding makes it possible for them to bring a set of unusual basketball hoops to the playground, called Bankshot, aimed at all ages and abilities.
Bankshot was invented by basketball enthusiast Rabbi Reeve Brenner, who brought the first hoop of its kind to Israel in 1981. A young relative of his was injured in a car accident and confined to a wheelchair. Brenner wanted a sport he could play with his relative at their different paces.
"If you change the backboards, and take away having an opponent, you're playing a self-competitive sport," Brenner said about his invention. "Anyone can do it."
The Jonathan's Dream playground in West Hartford has received $50,000 in funding from the Kevin Ollie Charity Classic to build the state's first Bankshot court. The court will feature nine individualized basketball stations.
A Bankshot court features differently-sized hoops side by side. Players move between stations, scoring baskets at their own pace. Each hoop has unique physical features, and the game becomes progressively more challenging, as each shot requires a different angle or method to bank points.
The West Hartford playground's co-founder, Amy Barzach, is pleased with the pace and cooperation of the town community to re-make Jonathan's Dream. "West Hartford is a special community. It's very inclusive," she said. The original playground, she said, was a place where children of all abilities could play together. "Children and people with disabilities all feel welcome here."
Town residents initially came together to build the original Jonathan's Dream playground in 1996 after the Barzach family lost their infant son to muscular atrophy. The playground was deemed one of the first inclusive playgrounds in the country, with safe, accessible structures for disabled children.
Jonathan's Dream was dismantled in 2013 after failing an annual playground safety inspection. The wooden structures were decaying, and the playground's rubber tire structures were deemed unsafe.
Intending to preserve her son's memory, Barzach connected with volunteers and developed a plan to reconstruct the playground. "It will give the West Hartford community a whole new set of possibilities," she said.