Does Wind Energy Have a Future in Connecticut?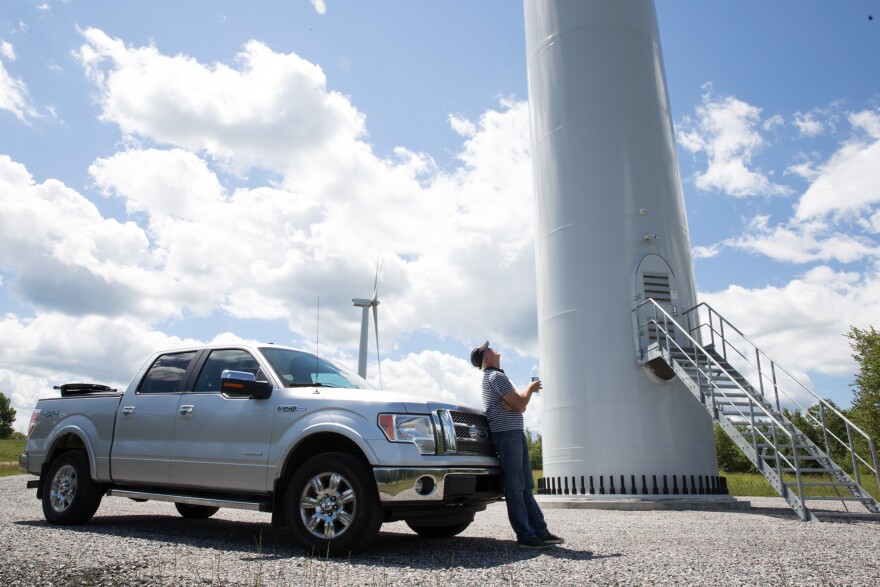 Greg Zupkus stood in the shadow of one his company's wind turbines. A low hiss came from the turbine's cooling fan, and in the distance, sporadic gun shots popped off from the adjoining hunting club. But the turbines, surrounded by fields and forest, and turning in the light summer breeze were, for the most part, quiet.
"People will see the turbines are just sitting here minding their own business," Zupkus said. "They're going to be here 20-plus years."
When they proposed to build the Colebrook wind farm, Zupkus's company BNE Energy faced heavy opposition from some neighbors to the site who argued that the turbines would produce too much noise and were too close to nearby properties. A local activist group pushed its case against the turbines all the way to the state's Supreme Court. But the court ruled in favor of the wind farm, clearing the way for future projects.
"There's a reason why every country around the world is throwing in wind turbines," Zupkus said.
But with the fourth densest population and the third smallest geographic area in the country, Connecticut doesn't have a lot of space to site wind projects. So right now, the state buys a lot of its renewable energy from other New England states to meet is clean energy goals.
There's also just not a lot of wind in Connecticut.
In 2015, the National Renewable Energy Laboratory estimated that only about 60 square km of land in Connecticut had the technical capacity to support wind energy. And that's not factoring in potential pushback from the community.
"We have a highly educated population of environmentalists, who love the idea of renewables but are very concerned about what tracts of land are going to be utilized for it," said state Representative Lonnie Reed, who chairs the legislature's Energy and Technology Committee.
Reed said she understands the concerns people might have about wind turbines being in their town, but she said that community pushback makes it harder for the state to attract wind companies.
"It's certainly one of the big conversations we have about Connecticut in general," Reed said. "How do we get companies to come here? How do we get investors to come here? And any level of uncertainty or pushback that is going to change the game for them once they begin to make a commitment is incredibly off-putting."
Wind development in Connecticut was also challenged by a three-year state ban on wind turbines while the legislature figured out how to regulate them.
Colebrook resident Joyce Hemingson led the opposition against the Colebrook turbines. Hemingson said the intermittent nature of wind in New England causes many turbines to produce only 30 percent of their maximum energy output.
"For every three turbines that would be built, it would take three to do the electric generation that one is rated at," Hemingson said. "That's why onshore wind in New England is somewhat of a problem because you have to build more and more in order to get any amount of electricity."
Hemingson's group pushed the state to pass new laws that require the turbines to be distanced from surrounding property lines. But she's not satisfied with the distance requirements the state settled on. Hemingson said the turbines have to be farther away to cut down exposure to low frequency sound, which she said poses risk to neighbors.
And Connecticut is surrounded by states with better onshore -- and offshore -- wind conditions. So is there a future for wind energy here? Greg Zupkus thinks the key is in the state's reservoirs.
"A lot of people don't realize that there's a lot of land all over Connecticut that's locked up -- rightly so -- by the water companies, that have reservoirs, and they have their protection land around it," Zupkus said. "Well, if we come up, and as an example, a water company says [they] don't have a problem with a turbine in the distance, because now that means the next piece of property is never going to be developed."
Zupkus's company wants to build another wind farm in nearby Goshen. At peak, it would produce about four times as much electricity as Colebrook. The new turbines would sit on one of the state's higher ridges among thousands of acres of heavily forested land owned by the Torrington Water Company.
So that might be great for a water company, and great for a wind company. But what about the town that the wind turbines are in?
Turns out that the state, not the town, has most say in where wind projects are sited.
The state energy department is now reviewing proposals for small-scale clean energy projects to be located in Connecticut, as well as several other states in the region and Canada. Of the 107 proposals submitted to the state, only seven were wind.