Remembering Those We've 'Overlooked'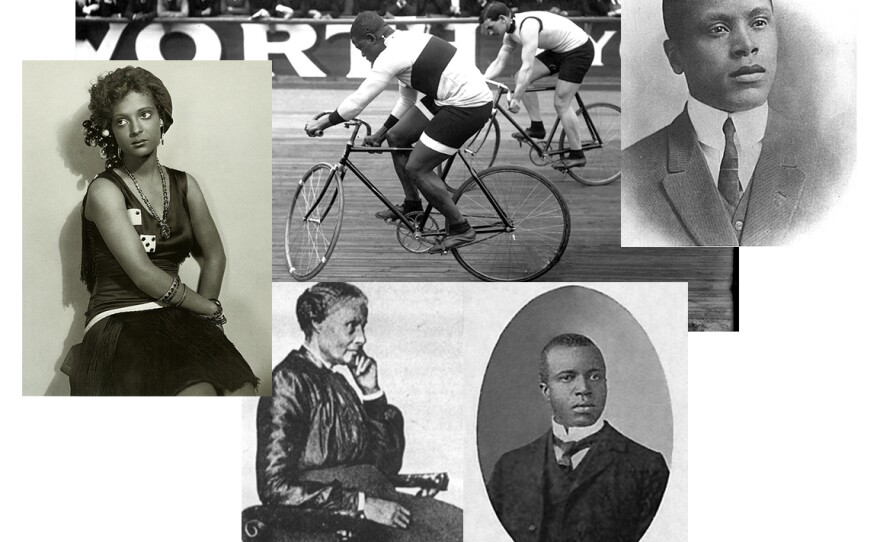 Clockwise from top: Major Taylor, Oscar Micheaux, Scott Joplin, Mary Ellen Pleasant, Nina Mae McKinney
Public Domain / Wikimedia Commons
Dr. Stacey Close – Historian and Associate Provost and Vice President for Equity and Diversity at Eastern Connecticut State University.";
Chion Wolf / WNPR
Frank Harris III - Professor of Journalism at Southern Connecticut State University.
Chion Wolf / WNPR
Obituaries can capture the life and achievements of individuals, from local community members to the famous. This hour we talk with an editor behind the New York Times' "Overlooked" obituary series, which highlights black men and women whose contributions were overlooked at the time of their deaths like actress Nina Mae McKinney and ragtime composer Scott Joplin.
We also talk with a Connecticut historian about important black men and women in our own state whose place in history may have been overlooked.
And this year marks the 400 years since the enslaved Africans were brought to what is now the United States. We talk with a professor who is grappling with the question of what it means to bear witness to this history. How should we remember this anniversary that marks the beginnings of a horrific institution in our country's history—an institution whose impacts we are still feeling centuries later?
Join the conversation on Facebook and Twitter.
GUESTS:
READING LIST:
New York Times: Overlooked (February 2019) – "These remarkable black men and women never received obituaries in The New York Times — until now. We're adding their stories to our project about prominent people whose deaths were not reported by the newspaper."
Hartford Courant: Frank Harris: What the 400th means (January 2019) – "Over the past few years, I have been writing, speaking and filming about what America's history books have deemed the first African slaves to arrive in America in Jamestown, Va. Why have I felt compelled to champion the recognition of this event? Why is it important? What does the 400th mean to me? The 400th represents the beginning of the horror that, in varying degrees, wound its way through the bloodlines of the descendants of Africans in America."
Chion Wolf contributed to this show.