Connecticut Refuses To Disclose How Much It Pays For Each Coronavirus Test
Connecticut is paying more than half a dozen outside vendors to test people for the coronavirus. But state officials are redacting the contracts that spell out how much taxpayers are paying for each test because the vendors say those prices are trade secrets.
The Office of the State Comptroller has redacted at least six public contracts at the request of vendors who say their prices for a budgeted $50 million in taxpayer-funded tests shouldn't be publicly disclosed.
We depend on your support. Donate to Connecticut Public today.
While the state says it's paying an average of $117 for each test and its associated lab work, it has repeatedly denied requests for the exact pricing details of its contracts with at least six companies.
State Comptroller Kevin Lembo said that the vendors consider such information a "trade secret" and that those same vendors redacted that information from public contracts after his office signed off on the testing agreements.
"The vendors get to, under the FOI law, decide what's [a] trade secret," Lembo said. "They have indicated that those areas around the unit prices are proprietary."
But documents in possession of public agencies are presumed to be public information, said Mary Schwind, a lawyer and managing director at the Connecticut Freedom of Information Commission.
Schwind said it doesn't matter whether the vendors think their pricing information is a trade secret. It's on the state agency to make that call.
"The burden is on the public agency that seeks to withhold the information to prove that an exemption applies, because the presumption is otherwise," Schwind said.
The 'Best Possible Deal' To Protect Public Health
The financial realities of COVID-19 testing are having real public health impacts.
State officials recently reset expectations around COVID-19 testing numbers — walking back a goal of running 100,000 weekly tests.
Part of the reason is money, said Gov. Ned Lamont's chief operating officer, Josh Geballe.
"Candidly, there's the financial realities of this as well. Testing is not free, and we know we're going to be testing for quite some time to come until we can really put COVID behind us," Geballe recently told Connecticut Public Radio's Where We Live.
Lembo said Lamont asked him to get the testing contracts in place to ensure Connecticut had adequate testing capacity at the best price possible.
"So from my perspective, and in the interest of taxpayers and using their dollars wisely, I need to get the best possible deal," Lembo said. "That would be harder to do if that information was floating around."
Who Decides What's Public In Public Contracts?
So far, the state has contracted with at least seven vendors for COVID-19 testing: Jackson Labs, Genesys, Hartford HealthCare, Sema4, Yale New Haven Health, PhysicianOne Urgent Care, and Quest.
Aggregate amounts for the contracts are posted online -- but the state says the individual prices are exempt from disclosure. After those contracts were signed, Lembo said the vendors had 10 days to redact portions they didn't want made public.
"So it is the vendors who make that selection, but it is my office that would honor it, in this case, contractually," Lembo said.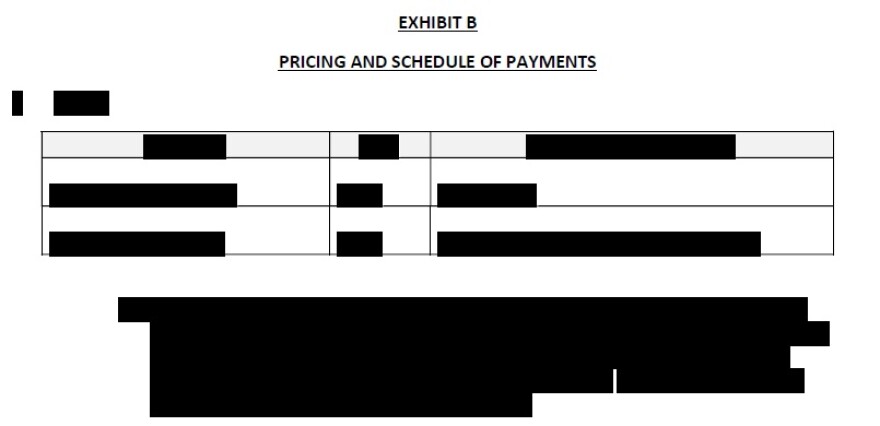 Stephanie Wasco, chief communications officer for The Jackson Laboratory, said her organization "does not disclose customer contract pricing data that differs from our list price."
Hartford HealthCare spokesperson Tina Varona said it's HHC's policy "never to divulge negotiated rates."
And a spokesperson for Yale New Haven Health System said it is "common practice to redact sensitive portions of a contract such as confidential or privileged financial information as permitted by law in accordance with the Freedom of Information Act."
But Schwind said private vendors don't get ultimate authority over redacting public documents.
"Under the trade secrets exemption, it would be the public agency that withholds the records," Schwind said.
Schwind said the trade secrets clause does allow for some redactions under state FOI law. But typically, she said, those redactions apply to things like methods or techniques.
"But it's not an exclusive list. So if an agency wants to contend that that type of information in a particular contract is exempt, it would be their burden to come up here and prove it," Schwind said. "Oftentimes when we look at this particular exemption, the company that gave the public agency the records … usually will come in as a witness."
Senate Minority Leader Len Fasano (R-North Haven) said he doesn't believe the price the state is paying for a service should be kept from public disclosure.
"It's not a trade secret," Fasano said. "What we pay is with taxpayer dollars, every taxpayer should know where their money is being spent."
"Let's assume there's some oblique exception to the rule. That doesn't mean the administration can't disclose it," Fasano said. "The bottom line is they don't want to disclose it."
Lembo said if the redactions are formally challenged, he'll notify the vendors, who would have to defend them before the state FOI commission.
"Would I put up a big defense of the contractors' right to redact these contracts if it went to an FOI hearing? No. That's not my job," Lembo said. "I would live with the results of that analysis."